Jan/Feb 2013 Volume: 4 Issue: 1
Initial Experience with Windows 8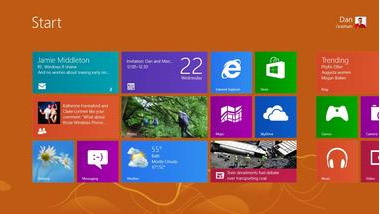 With Windows 8, Microsoft has made a rather dramatic departure from the user interface of prior versions. The general understanding is that Microsoft is trying to create an integrated operating system that will work well for users on newer touch sensitive tablet devices, as well as more traditional desktop environments.
I have yet to use Windows 8 on a tablet device, and so I might not be Microsoft's idea of an ideal target user, but I think I'm probably very typical of a technically capable Windows 7 user.
My first use of Windows 8 was to install it on a virtual machine on my Mac laptop, using VMWare Fusion. I wanted to test whether FileMaker 6 (obsolete for 8 years now) worked under Windows 8. The new operating system installed on the VM without any trouble, and I was then able to install FileMaker 6, which also installed easily, and in the limited testing I did, seemed to work ok. I created a few records and printed a simple layout.
I can't say that this initial experience with Windows 8 made me a big fan. As an experienced Windows 7 user, I really don't like having to re-learn where to access features that I've known how to use for years. Windows 8 boots up into a new tile-based interface (shown in screen capture above) and you have to click a tile to get to the traditional desktop. Once there, you no longer have a 'Start' menu, so you have to re-learn how to open applications, access control panel functions, etc.
My second experience with Windows 8 was significantly worse. I made the seriously incorrect assumption that I could purchase a Windows 8 mini-tower and downgrade it to Windows 7. After several hours of messing with this, I finally decided to give up, get rid of the Windows 8 system, and order a system with Windows 7 pre-installed. Just getting past the "secure boot" feature in Windows 8 in order to boot from the Windows 7 installer DVD took me over an hour.
I sound like a luddite, even to myself, but I'll be sticking with Windows 7 for quite some time.
~John Newhoff
---
Converting E-Com to FMv12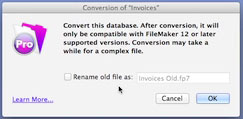 In December, we converted E-Com (our database for managing special education student data - used by over 70 school districts in Washington) to FileMaker v12. The process went quite smoothly. We have not experienced any difficulty in converting files from FileMaker v11 to FileMaker v12, as opposed to converting earlier versions (v6 and older).
We converted the database to take advantage of new features offered by FileMaker v12. Since E-Com uses a third-party plugin, we will switch to using the new "Install Plugin" script step in FileMaker v12. That will allow users to install or update plugins directly from a container field within the file itself, greatly simplifying the plugin deployment process.
We also plan to change document storage to the new external storage method available in FileMaker v12. One difficulty with shared documents in FileMaker v11 is that the external file must be placed in a shared location before it is stored as a reference in the container field in the file. Using "Managed Containers" in FileMaker v12, we are able to specify the storage location of the documents in advance on the server, so a shared location will no longer be a requirement.
We will also be re-working many scripts to take advantage of the new modal window type available in v12 to eliminate workarounds in earlier versions of FileMaker necessitated by the absence of this capability. We have plans to use the Execute SQL script to simplify the relationship graph and make scripting reports more powerful, as well.
Overall, this upgrade will provide a more stable system, with some nice new features for our E-Com users.
~Kate Wheeler
---
SQL Explorer and SQL in FileMaker 12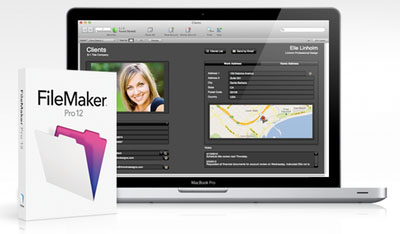 FileMaker 12 introduced a new function called Execute SQL, which allows you to use the SQL Select statement to perform queries against your FileMaker database, and get results back as a delimited value list.
This can be very helpful, as it allows for faster queries, as well as queries on tables without regard to relationships or context.
I've been using SQL for quite a few years in the process of the 4th Dimension development work I do, but for many FileMaker developers, the Structured Query Language (SQL) is unfamiliar and it can be a bit of work to learn.
Enter SQL Explorer, from Seattle-based Seedcode. SQL Explorer is an impressive FileMaker native tool for visually building SQL queries by selecting tables and fields from a set of lists. It can be very helpful in getting started with learning SQL.
Once you've mastered the basic Select statement with SQL Explorer's help, check out W3Schools.com for an excellent, concise, source for documentation of SQL functions and extensions to the Select statement, such as Group By and Having.
~John Newhoff
---
Keep Up to Date with FileMaker and 4th Dimension
---
Who We Are
Portage Bay Solutions is a database development firm based in Seattle, Washington that's been working with organizations of all sizes for almost 20 years. Our customer service is top-notch; we answer and return calls promptly, stay within budget, and provide quality support to our clients during all phases of the development process.
FileMaker Pro & 4th Dimension upgrade and development
MS Access to FileMaker conversions
FileMaker Pro & 4th Dimension integration with other data environments
Web/Database integration
FileMaker Instant Web Publishing

Seattle - 425.481.8175 | Austin - 512.827.8517
Mailing Address: 17115 NE 163rd Place, Woodinville, WA 98072