January/February 2012 Volume: 3 Issue: 1
---
---
FileMaker Pro 11 Upgrade at Snohomish County PUD

With the close of 2011, we are winding down one of the larger FileMaker 11 upgrade projects that we have had the pleasure to work on. The Snohomish County PUD (the second largest publicly owned utility in the northwest) had been using FileMaker 6 for quite a few years. The PUD was concerned about compatibility with Windows 7 and so decided to upgrade to FileMaker 11 prior to their district-wide Windows 7 update.
The FileMaker 6 implementation at the PUD consisted of many independent solutions in different departments, all hosted locally within the departments. It was decided early on that we would take advantage of the upgrade work to also consolidate these independently hosted solutions onto a central FileMaker Server, thereby significantly reducing infrastructure support needs and dramatically improving the security of the data.
With all but one department now upgraded and on the central server, the new FileMaker Server 11 implementation is hosting nearly 100 different FileMaker databases for 14 different departments at the PUD. These solutions cover a wide variety of business needs including managing vegetation trimming schedules, investment tracking, and customer service.
Completing the upgrade to FileMaker 11 and FileMaker Server 11 will insure that these business critical applications will continue to help the PUD pursue it mission of providing reliable, cost effective water and electricity to Snohomish County.
~John Newhoff
---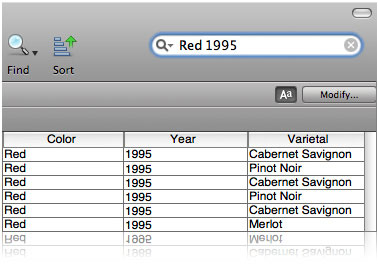 Quick Find
The FileMaker Pro 11 Quick Find feature makes searching your database a breeze. It works exactly like a web browser, where you can enter a word or phase in the search box and then hit enter to perform a find across all fields in all records. The Quick Find box also keeps a list of most recent Quick Find searches that can be easily accessed and re-performed at any time.
~Kate Wheeler
---
Sun Sets on FileMaker 9

FileMaker has recently announced the official sunset of the FileMaker 9 product family. As of September 27, 2012 FileMaker 9 products will no longer be officially supported and upgrades from FileMaker 9 will no longer be available. Since upgrades to the current version of FileMaker from FileMaker 9 are discountedsignificantly, you may want to plan on upgrading before this date if you are still using FileMaker 9. The single license retail price for upgrading from FileMaker 9 currently is $179 ($299 for Advanced). After the sunset date, that will go up to the normal retail price for purchasing new licenses, $299 ($499 for Advanced) for a single license.
FileMaker has also announced a change to the upgrade licensing program. In the past, an upgrade purchase has included one year of maintenance, meaning that you were entitled to any new FileMaker releases that occurred for one year after purchasing the upgrade. Starting March 31st, 2012, maintenance will no longer be included in upgrade purchases and will have to be purchased separately.
The combination of the two changes makes upgrading prior to April of next year look like a particularly good idea.
~John Newhoff
---
Siri Wows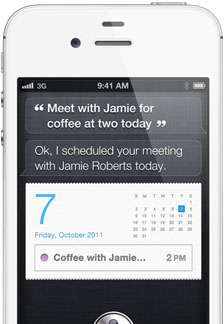 Siri, the voice-activated personal assistant, is by far the most impressive feature of the iPhone 4S. Out of the box, Siri is programmed to assist with all sorts of tasks: place phone calls, schedule meetings, give the forecast, map directions, and much more. I've used Siri to search for coffee shops close by and dictated text messages without having to unlock the phone. Just ask Siri "What can you do?" to get full list of her capabilities.
But there's more. Siri is teachable. You can tell Siri how the contacts in your address book relate to you (mother, best friend, boss, etc) so that you can say things like "Call mom" and Siri will remember who mom is. If you have a hard-to-pronounce name, you can teach her the correct pronunciation.
And she has a sense of humor. Check out this list of popular questions to ask Siri. My favorite is "Who's on first?" Siri answers, "That's right." Siri is still in 'beta' version so we can expect her knowledge and skills only to expand in the future. People are discovering new tasks for her all the time. Just this month, a developer used Siri to start his car. I wonder how soon it will be before Siri is smart enough to read our thoughts!
~Kate Wheeler
---
Keep Up to Date with FileMaker and 4th Dimension
FileMaker Server has been updated to 11.0v4 and the 4D product family has been updated to version 12.3. Both updates primarily address Mac OS X Lion (10.7) compatibility.
---
Who We Are
Portage Bay Solutions is a database development firm in Seattle, Washington that's been working with organizations of all sizes for almost 20 years. Our customer service is top-notch; we answer and return calls promptly, stay within budget, and provide quality support to our clients during all phases of the development process.
FileMaker Pro & 4th Dimension upgrade and development
MS Access to FileMaker conversions
FileMaker Pro & 4th Dimension integration with other data environments
Web/Database integration
FileMaker Instant Web Publishing

Seattle - 425.481.8175 | Austin - 512.763.7864
Mailing Address: 17115 NE 163rd Place, Woodinville, WA 98072