July/Aug 2012 Volume: 3 Issue: 4
---
Follow us on:
---
Themes in FileMaker 12
One of the keys to designing a high quality, easy-to-use database is creating a user interface that is pleasing to the eye. FileMaker 12 has made this task easier by adding 40 built-in themes. See our video on the topic: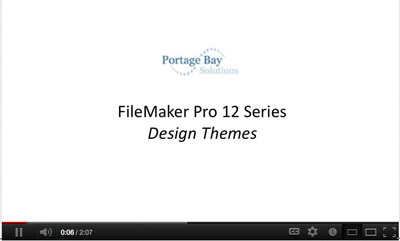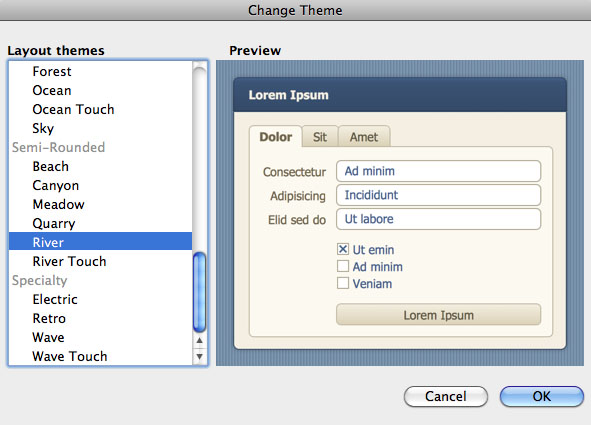 In the video, I use the Inventory Starter Solutions that comes with FileMaker Pro 12. Along with all the starter solutions, this file comes preset with a theme in place. These themes define the color scheme, background image, fonts and sizes, hover colors, field boundaries and more.
Themes can easily be changed on the fly by first entering layout mode, then going to the Layout menu and selecting Change Themes. Here you will see a pop-up window displaying all themes. Clicking on each of these gives you a quick preview. Note: Unexpected changes may occur; always review the layouts after a theme change and make any necessary tweaks.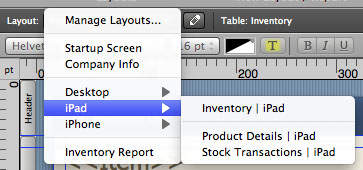 Another cool thing about these starter solutions is that they come with iPhone- and iPad-specific layouts. The themes are layout specific, not system-wide. Changing the theme for the desktop version will not change the look and feel of the iPhone or iPad layouts.
Using themes in FileMaker 12 definitely gives you a leg up in creating a smooth-looking, modern interface.
At this time, themes created outside of FileMaker Pro are not supported, but hopefully we'll see this in a future version of FileMaker.

~Kate Wheeler
Useful links:
Overview of themes
Getting to know the new themes in FileMaker Pro 12
More videos in our series on FileMaker 12
---
Cool Technology: Nest Thermostat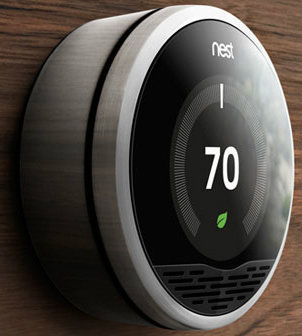 The Nest thermostat has received a decent amount of press in the tech world, but if you've missed hearing about this device, you should check it out.
The manufacturer calls it 'the learning thermostat' because they've designed it to figure out for itself how it should be programmed; you don't have to learn how to program it. The Nest is compatible with standard 24 volt HVAC systems and can replace traditional thermostats like those made by Honeywell. Their website says that it is incompatible with millivolt controlled heating systems, but I was able to find a good web page with information on how to wire the Nest for my millivolt system (a gas fireplace insert).
The thermostat itself really has only one control - a dial that allows you to set the temperature. A proximity sensor allows it to light up and show you the current temperature and temperature setting when you approach the device. You can log into the nest from a web browser and see information about energy usage, increase or decrease the temperature, and set up schedules (if you choose). An iPhone/iPad app lets you control the Nest from your iOS device. The thermostat 'learns' from how you set the temperature and then automatically adjust the temperature for you. My favorite feature is that it will monitor your location if you have the phone app installed and will automatically lower the temperature when you are away.

~John Newhoff
---
Keep Up to Date with FileMaker and 4th Dimension
---
Who We Are
Portage Bay Solutions is a database development firm in Seattle, Washington that's been working with organizations of all sizes for almost 20 years. Our customer service is top-notch; we answer and return calls promptly, stay within budget, and provide quality support to our clients during all phases of the development process.
FileMaker Pro & 4th Dimension upgrade and development
MS Access to FileMaker conversions
FileMaker Pro & 4th Dimension integration with other data environments
Web/Database integration
FileMaker Instant Web Publishing

Seattle - 425.481.8175 | Austin - 512.763.7864
Mailing Address: 17115 NE 163rd Place, Woodinville, WA 98072