March/April 2012
Volume: 3 Issue: 2
---
Follow us on:
---
New FileMaker Release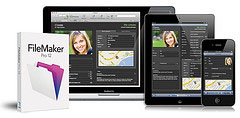 We are excited to announce the release of the latest line of FileMaker products - FileMaker Pro 12 and FileMaker Go 2.0 for the iPad or iPhone.

FileMaker 12 and Go 2.0 come with a slew of enhancements and new features. Below is a summary of the more useful ones.
FileMaker Pro 12
Improvements to document and image storage: Options to specify encryption and storage location of container fields. There is also a new tool that will transfer existing container data to a new location.
Plugin updating: Overhaul of how plugins are deployed and updated. These changes make it easy to integrate external plugins with FileMaker solutions.
Custom window styles: Enhanced window management allows creation of custom pop-up dialog windows and document windows.
Layout design tools: Built in layout design themes, gradient tool, and screen stencils designed for different standard desktop resolutions as well as for the iPhone and iPad.
New chart types: Four new types of charts will be supported: Stacked bar, positive/negative column, scatter, bubble.
FileMaker Go 2.0 for the iPad or iPhone
FileMaker Go is now FREE!
Location services: Determines current location and stores this information in the database. Current position can be obtained by GPS, cell or wifi.
Store music, photos, and more: Ability to insert audio, signatures, photos, music, or files in the database. The feature also allows the use of the device's camera to insert a photo on the fly.
Export files/images and records: Direct export enables emailing or saving files and images from the device. This version also allows custom export of database records similar to FileMaker Pro. Export output formats include xlsx, doc, html, csv.
Download a free 30-day trial of FileMaker 12 to see all the new features, or upgrade today. FileMaker Go 2.0 works exclusively with FileMaker Pro 12 and FileMaker Server 12 and can be downloaded forfree from the iTunes App Store.
~Kate Wheeler
---
4D Releases Version 13

Here at Portage Bay it seems like just yesterday that 4D v12 was released, but time waits for no one, and so it is that 4th Dimension v13 was released this past month. With the release of v13, all releases prior to v12 are officially sunsetted. This means there will be no patches or updates released for 4D v11, 4D 2004, or any earlier releases. While it is unlikely that there will be immediate problems with these earlier versions, users of 4D versions earlier than v12 will want to be planning for an upgrade.
4D v13 introduces some great new features:
The new web server engine is multi-threaded to provide even faster and more scalable access for web users.
The 4D Client application now has an integrated Webkit web browser for completely seamless cross-platform embedded web content in your database.
The 4D programming language has had many new commands added to make programming 4D apps faster and easier for developers.
The 4D grid tool, the ListBox, has been significantly enhanced, making it even more rare that you need to use external tools for data grids. I'm particularly excited about the ability to control vertical size and alignment of row data.
This is a very short summary of new features. You can watch a webinar or download documentation on the new features in v13. A free trial is also available. I'm really looking forward to working with this new version of 4th Dimension.
~John Newhoff
---
Keep Up to Date with FileMaker and 4th Dimension
| | | |
| --- | --- | --- |
| | | 4Dv12.3 |
| | | |
---
Who We Are
Portage Bay Solutions is a database development firm in Seattle and Austin that's been working with organizations of all sizes for almost 20 years. Our customer service is top-notch; we answer and return calls promptly, stay within budget, and provide quality support to our clients during all phases of the development process.
FileMaker Pro & 4th Dimension upgrade and development
MS Access to FileMaker conversions
FileMaker Pro & 4th Dimension integration with other data environments
Web/Database integration
FileMaker Instant Web Publishing

Seattle - 425.481.8175 | Austin - 512.763.7864
www.portagebay.com