Nov/Dec 2012 Volume: 3 Issue: 6
Updating 4D for the Burke

The Burke Museum at the University of Washington has been using 4th Dimension for over 20 years, to manage their collection of zoological specimens. The collection currently consists of close to 200,000 specimens and is growing rapidly. 37,000 new specimens alone were recently acquired from the University of Nevada, Las Vegas when they closed their natural history museum.
Their 4D application has traditionally been a homegrown database, undergoing development work by a series of Burke Museum staff members over the years.
With the rapid growth of the collection, the museum saw a need to accelerate the development of a number of features within the database and so sought some outside help with the 4D system, selecting Portage Bay for this project.

Some of the project goals are to upgrade to 4D v13, improve the consistency and flexibility of the user interface, add features for managing specimen loans, and rationalize the geographical tracking in the application.
One of the first things we've done to improve flexibility and consistency is to move the application intoFoundation Shell, a 4D programming framework. This greatly improves the consistency of the application and provides 'standard' features that modern users expect in a polished application, such as a multi-process/multi-window interface, window positions that are saved across logins, and consistent menu systems.
In addition to Foundation, we've integrated another third-party 4D component called ListMagic. Listmagic provides system users with the ability to individually customize the columns that will display for each table, to do likewise with the size and style of the fonts in the columns, and to manage alternating row colors.
The integration of these two components has given the Burke Museum the flexibility and consistency they were looking for.
We continue to move forward with other aspects of the project, currently working on fine-tuning the specimen loan management features. Next up will be the complex task of improving on the management of geographical data related to where specimens have been collected.
~John Newhoff
---
FileMaker v12 Certification!
John and I spent the last few months preparing and studying for the FileMaker 12 certification exam, the official exam offered by FileMaker Inc.
The certification exam tests a developer's skill levels and understanding of all things FileMaker - from calculation formulas to server requirements. This test requires knowledge from across the board. FileMaker provides a comprehensive training series offering in-depth instructions along with demo files. In fact, the training guide can be useful to anyone wanting to learn more about the capabilities of FileMaker Pro 12 and FileMaker Go for the iPhone and iPad. Beyond the training guide, other resources are the product manuals, the FileMaker knowledge base and also white papers on FileMaker TechNet.
Technet memberships are now free. With the membership, you have access to a downloadable version of the training series, along with many other useful resources, such as webinars, video training series, iOS resources, sample files and more. It is a great one-stop hub for help with any FileMaker problem.
After months of studying the FileMaker resources, and sitting for the computerized 2-hour test, I'm pleased to announce that John and I are both FileMaker 12 certified developers.
~Kate Wheeler
---
Find My iPad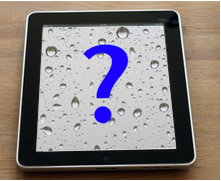 About six months ago I misplaced my iPad. Not a terribly unusual event, I have an unfortunate tendency to lose things occasionally (ok, some might say frequently). Usually they turn up again pretty quickly. In this case though I could not find it anywhere. I had just returned from a business trip to Eastern Washington, and I thought I must have left it in a hotel or coffee shop (check out Pioneer Coffee in Cle Elum next time you're there, great coffee shop).
So, out comes 'Find My iPad' which should magically tell me right where the missing device could be found. I've used it many times to locate my iPhone around the house. If you have a Mac laptop or an iOS device, I strongly encourage you to get an iCloud account so you can use this feature when needed.
Unfortunately, my iPad appeared to be offline and couldn't be found. I called the last hotel I stayed at, but they said they couldn't find it.
I finally decided to send a remote wipe command to it, hoping to prevent any of my data from being available to anyone that might find the iPad (this can also be done through your iCloud account).
I ended up figuring that some tech savvy person had found it and re-initialized it in the week between when I lost it and when I sent the remote wipe command.
Well, I'm embarrassed (and glad) to say that the iPad turned up this week. I had apparently fallen asleep watching Netflix and the battery drained all the way and the iPad slid behind the bed. This was at our family's vacation place on Whidbey Island (available as a vacation rental), so I'm not there that often and with the battery dead, Find my iPad couldn't find it.
So, the lesson here… Don't wait for your iPad's battery to run all the way down before you decide to lose it.
~John Newhoff
---
Keep Up to Date with FileMaker and 4th Dimension
---
Who We Are
Portage Bay Solutions is a database development firm in Seattle, Washington that's been working with organizations of all sizes for almost 20 years. Our customer service is top-notch; we answer and return calls promptly, stay within budget, and provide quality support to our clients during all phases of the development process.
FileMaker Pro & 4th Dimension upgrade and development
MS Access to FileMaker conversions
FileMaker Pro & 4th Dimension integration with other data environments
Web/Database integration
FileMaker Instant Web Publishing

Seattle - 425.481.8175 | Austin - 512.763.7864
Mailing Address: 17115 NE 163rd Place, Woodinville, WA 98072