November/December 2011
Volume: 2 Issue: 6
---
---
4D/Web Integration at the Heritage Institute

The Heritage Institute provides distance, online, and on-site continuing education courses to teachers throughout the United States. They manage course registrations via a combination of a 4th Dimension application used by office staff and a web application accessed by students and instructors. 4D's extensive support for web services has allowed for a relatively straightforward integration of the two systems.
We've recently completed a new phase in the integration of the two systems. The web application now calls a web service in the 4D application to send course completion information to the 4D system, and the 4D application calls a web service method published by the web application to send up registration data. The communication, in both directions, is SSL encrypted to ensure the confidentially of the information as it's transmitted over the Internet.
This new phase builds on work done previously to automate the email of PDF-based registration and credit information to students and instructors to make the registration and course completion process as efficient as possible.
~John Newhoff
---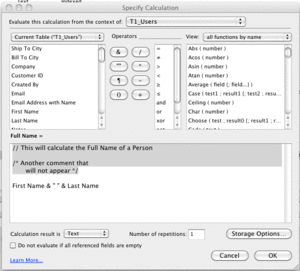 Adding comments to calculations
Sometimes it is very helpful to add a comment to a calculated field to describe the purpose of or the reason for a change to the calculation. Doing this in FileMaker is easy. When defining a calculated field, there are two ways to insert comments directly into the calculation without disrupting the actual formula.
As shown in the image to the right, for single line comments, simply add a "//" before the comment. For multiple line comments, you will need to add "/*" at the beginning of the first line and then "*/" at the end of the last lines.

~Kate Wheeler
---
Review: FMStudio Pro for DreamWeaver

We are always interested in finding out about time saving tools for web and database development. We recently decided to try out FMStudio Pro, a Dreamweaver extension that enables a connection to a FileMaker database directly from within Dreamweaver. Using this extension makes PHP development a bit easier, by allowing drag and drop functionality, and providing wizards that assist in creating a FileMaker-driven web application. The extension is both Mac and Windows compatible and is supported in Dreamweaver CS5 and CS5.5.
I did find it a bit difficult to use at first. There are quite a few different tools, without a lot of explanation about what each one does. The support documentation for the newest version is helpful and gives numerous examples about how to use different features, but I particularly found the video documentation for the older version helpful. At $157 for a new license, I would say it is worth the investment. FMStudio Pro has turned out to be a very useful tool and a valuable time saver, once you have taken the time necessary to learn its intricacies.
~Kate Wheeler
---
Software Updates
4th Dimension and FileMaker have both seen updates in the last two months. FileMaker Server has been updated to 11.0v4 and the 4D product family has been updated to version 12.3. Both updates primarily address Mac OS X Lion (10.7) compatibility.
Keep Up to Date with FileMaker and 4th Dimension
---
Who We Are
Portage Bay Solutions is a database development firm in Seattle, Washington that's been working with organizations of all sizes for almost 20 years. Our customer service is top-notch; we answer and return calls promptly, stay within budget, and provide quality support to our clients during all phases of the development process.
FileMaker Pro & 4th Dimension upgrade and development
MS Access to FileMaker conversions
FileMaker Pro & 4th Dimension integration with other data environments
Web/Database integration
FileMaker Instant Web Publishing

Seattle - 425.481.8175 | Austin - 512.763.7864
Mailing Address: 17115 NE 163rd Place, Woodinville, WA 98072