September/October 2010
---
It's been a number of years since we published a company newsletter. 15 years ago, our newsletter was a 5 x 7 postcard sized mailer that contained information about software versions and updates. Starting with this issue -- #1 of our new email newsletter -- we'll send out an issue every other month, containing information about technical topics we find interesting, projects we're working on, and of course, news about software updates and current versions of FileMaker Pro and 4th Dimension.

We hope you find this bi-monthly newsletter interesting and useful. Please email us at enews@portagebay.com if you have any suggestions for topics.

In This Issue

Keep up to date with FM and 4D

---

What's New with FileMaker 11?

Ability to create spreadsheet-like reports on the fly

Brand new charting capabilities

Search any field in the database within seconds
---
FileMaker for the iPhone
FileMaker recently released FileMaker Go apps, making it easier then ever to access your database from anywhere. There are two apps; FileMaker Go for the iPhone and FileMaker Go for the iPad. Both apps support connections to databases hosted on a Mac or PC via Wi-Fi or 3G network. Using FileMaker Go, you can also copy databases from your desktop to your iPhone via iTunes Sharing. Opening a database on the iPhone displays the same screen you see on your desktop. The iPhone version includes simple navigation so you can easily find, add, delete, sort and modify data.
Top FileMaker Go Uses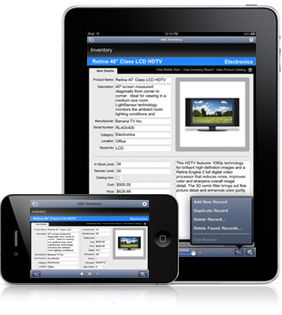 Conduct inventory checks while in the warehouse

Generate sales orders at a customer site

Track shipping and receiving activities

Check inattendees onsite for an event

Update project status while traveling

Verify student class schedules in the hallway

Add research notes while in the field

Evaluate performance in the classroom
For more information, visit http://www.filemakertrial.com/go.
---
Integrate Quickbooks with your FileMaker Database
Eliminate double data entry with a Quickbooks plugin. Productive Computing recently announced FileMaker Pro 11 compatibility of their FM Books Connector Plug-in. Using this plug-in with your custom database solution will allow automatic data import into Quickbooks. The set up of the plug-in with your database is fully customizable, allowing you to choose which information you would like imported into Quickbooks. Options include customers, invoices, payments and inventory.
For more details about the FM Book Connector plug-in, follow this link:
http://www.productivecomputing.com/plugins/fm-books-connector-id-63/.
---
Keeping Current with FileMaker and 4D
---
Who We Are
Portage Bay Solutions is a database development firm in Seattle, Washington where we've been working with organizations of all sizes for almost 20 years. We specialize in answering and returning calls promptly, staying within budget, and providing top notch support to our clients during all phases of the development process.
FileMaker Pro & 4th Dimension upgrade and development
MS Access to FileMaker conversions
FileMaker Pro & 4th Dimension integration with other data environments
Web/Database integrations
FileMaker Instant Web Publishing