Sept/Oct 2012
Volume: 3 Issue: 5
2012 FileMaker Developer's Conference

This past August, I had the good fortune to attend the annual FileMaker developer's conference. This year the conference was in Miami Beach, Florida. While Miami might not be your idea of the best place to spend several days in August, the weather while I was there wasn't too bad. We had one really good thunderstorm right over the hotel; other than that it was warm and a bit humid, but not intolerable. I took a swim in the Atlantic a couple of times in front of the hotel.
FileMaker always shows a few things at the developer's conference for which the attendees are under a non-disclosure agreement, and this year was no exception. So, while I can't say anything specific, I will say that this year's sneak peek at potential new FileMaker capabilities was more interesting than usual for me. I really hope what we saw becomes reality in FileMaker!

With FileMaker 12 having just been released, it comes as no surprise that many of the sessions were intended to educate attendees on new capabilities in the latest release of FileMaker.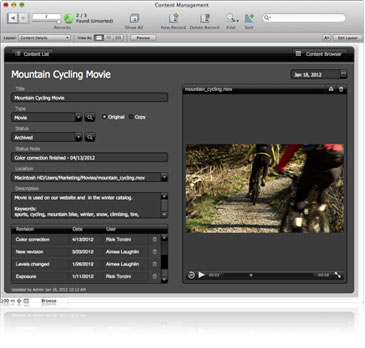 The session on the new remote container field capability in FileMaker 12 highlighted one of the more significant new features. The ability to integrate external documents (Word, Excel, image files, etc.) into a FileMaker application without having to store the files internally in the FileMaker file and without requiring a network file share is a big improvement for FileMaker. It's also a feature not easily reproduced in other database environments.
In our May/June 2012 newsletter, we reviewed backup functionality in 4D and FileMaker. One of the more useful sessions at the developer's conference reviewed in some detail how backup strategies are affected by the new progressive backup capability in FileMaker Server 12.
There were also a number of sessions I attended that were designed for people like me that are running a business doing FileMaker development. I like this trend in the conference and attended some good sessions on hiring junior developers, selling FileMaker services, and developing commercial solutions in FileMaker.
Next year's conference will be back in San Diego, the location of the 2010 and 2011 conferences. I enjoyed my visit to Miami, but will be glad to have the conference back on the west coast!
~John Newhoff
---
Considerations for FileMaker Go for the iPhone and iPad
Last month we successfully designed a FileMaker mobile database application for one of our clients, a medical practice management company. Our requirement was to create a contacts database that could be accessed offline, with the ability to update and refresh data from the server. We also needed to create an easy-to-deploy solution. Our end solution was a stand-alone contacts file that was deployed via email and a 3-step installation process. The file could then be populated with the most recent data from the server by clicking the "refresh" button from within the mobile application.

The popularity of the FileMaker Go app has led to the development of new tools and best practices. When considering a mobile application, please consider the following questions:
Must the mobile device connect to the database host over the internet or will there be a situation where you want to access your database while the device is offline?
If so, a sync strategy must be employed. Complexity for this can vary quite a bit, depending on how often the data will sync and how much information is needed. There will need to be scripts and logs created to push and/or pull data from the host version to the local version on the mobile device. FileMaker recently released a useful white paper on syncing best practices, which outlines the best practices for accurate and complete syncing.
Do you want to release an application to a large audience?
You may want to simplify access to your FileMaker Go application and install a customized home screen button that launches your FM Go app. A very useful tool from FileMaker, the iOS Configuration Profile Generator v1.0, makes this relatively easy. This simple application creates a configuration file that can be launched on the iOS device to create the home screen icon. The iOSApp Maker file is available for download from the FileMaker TechNet website. If you do not have an account, you can create one for free at

http://www.filemaker.com/technet/.
Additional resources:
Designing Business Apps in FileMaker Go (white paper)
50 Uses for FileMaker Go

~Kate Wheeler
---
Special Offer Ends September 27, 2012!
If you are a FileMaker 9 customer, it's been 5 years since you last upgraded your FileMaker software. Since then, many major new features and enhancements have been added to the FileMaker software line. This is your last chance for upgrade pricing on FileMaker 12! New FileMaker 12 is the culmination of 5 years of technological enhancements allowing you to more easily import and access data, create professional looking solutions, modify existing database designs and layouts, and create and share reports, plus a host of new features.
You can read more about it and upgrade at the FileMaker store.
---
Keep Up to Date with FileMaker and 4th Dimension
---
Who We Are
Portage Bay Solutions is a database development firm in Seattle, Washington that's been working with organizations of all sizes for almost 20 years. Our customer service is top-notch; we answer and return calls promptly, stay within budget, and provide quality support to our clients during all phases of the development process.
FileMaker Pro & 4th Dimension upgrade and development
MS Access to FileMaker conversions
FileMaker Pro & 4th Dimension integration with other data environments
Web/Database integration
FileMaker Instant Web Publishing

Seattle - 425.481.8175 | Austin - 512.763.7864
Mailing Address: 17115 NE 163rd Place, Woodinville, WA 98072